It goes without saying that the less garden you have to tend to, the lower maintenance there will be and there's a ton of clever options when it comes to landscaping ideas to achieve this.
Who has time for pruning, weeding, and watering? If a garden needing little to no care is your dream and you're in need of tried & true landscaping ideas, consider these pro ideas to keep your yard as low maintenance as possible.
PAVING
Adding paved surfaces to your yard is a smart way of getting rid of some of high-maintenance grass and flora you need to look after while keeping the area functional including an entertaining space for summer BBQs events.
FUSS-FREE PLANTS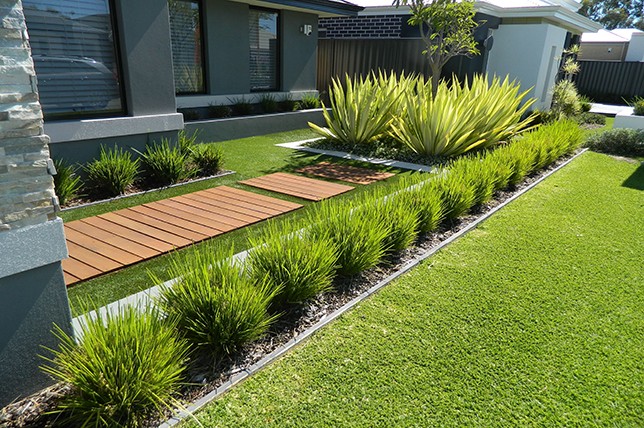 It should be a no brainer to fill your garden with plants that are easy to maintain as people often make the mistake of choosing riotous blooms, without realizing how tricky and time consuming they are to maintain; whether its watering, feeding, or pruning – some plants take a serious amount of care.
Go for perennials rather than annuals so you won't need to replant your beds each year. For an easy front yard landscape idea, opt for evergreen shrubs that don't require much attention and look great year-round.
RAISED BEDS
Raised beds create less work and are the perfect addition for modern backyard landscaping ideas. Compartmentalizing planting space means there's less chance of flower beds getting out of control, and because they're raised, any weeding and dead-heading that you do have to do, is less strenuous.
Raised beds are one of the more simple landscaping ideas to consider, but so effective. And as far as easy to maintain landscaping ideas go, they'll also break create structure in your garden and become a feature in a way that normal flower beds won't.
A PAINTED FENCE
If grand backyard landscaping ideas are out of scope because of time, maintenance or cost- fresh paint will work wonders for your garden if you're looking to create a beautiful, relaxing space and introduce some color, without the landscaping work. Painting fences, sheds, and summer houses in a delightful shade will liven up your garden, without much maintenance afterwords.
Pastel shades (like soft greens and blues) look great, but don't be afraid to go bold with black, or a more vibrant, unexpected moody hue. This is a great route for landscaping ideas on a budget – which incidentally involves no extra landscaping.
RELAXATION SPACE
Garden maintenance can be less stressful when you have the perfect relaxation space to relax at the end of the day. Gardening is all about the end result, so be sure to create an enticing area where you can sit back and enjoy the results.
String up a colorful hammock between two trees for the ultimate oasis or invest in comfortable, durable garden furniture to rest on at the end of a hard day.